Simply the best
time tracker for the Google Ecosystem
The Timeneye App is the easiest, most complete Time Tracking Software for your projects, without ever leaving your favorite Google tool.
Start your FREE 30-day trial
POWERFUL FEATURES
Maximize Office 365: track time and boost productivity
Quick start
When you connect Timeneye with a Google tool of your choice, we sync all your projects automatically. Time tracking controls will naturally appear right inside the interface, making it easy for the team to track time.
Accurate time tracking
When you're in full productivity mode, it is hard to keep track of a project, if you do not know how much time you spend on each task. Thanks to the Timeneye integration, you'll never miss a minute of work.
Updated reports
All the time you track with our integration is safely stored inside Timeneye. Every time you make a change, Timeneye will sync this update automatically. That means your reports will always show the freshest data.

Google Workspace
Timeneye turns time into productivity insights. Track time in Google Workspace, then run reports on projects and teams to discover time and cost sinks.
Automatically add your team members from your Google account, and you are ready to track time directly inside your Google Workspace desktop app.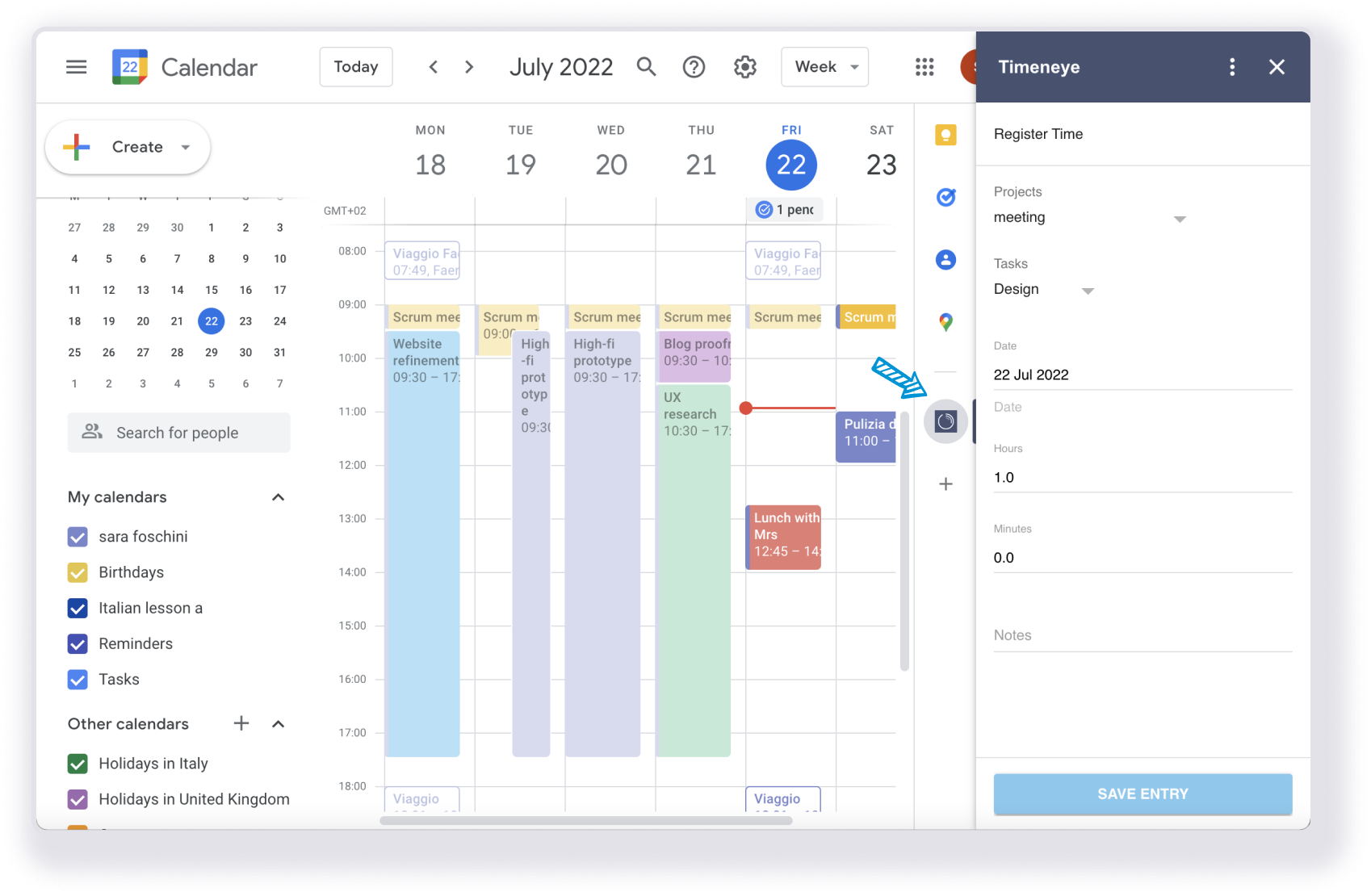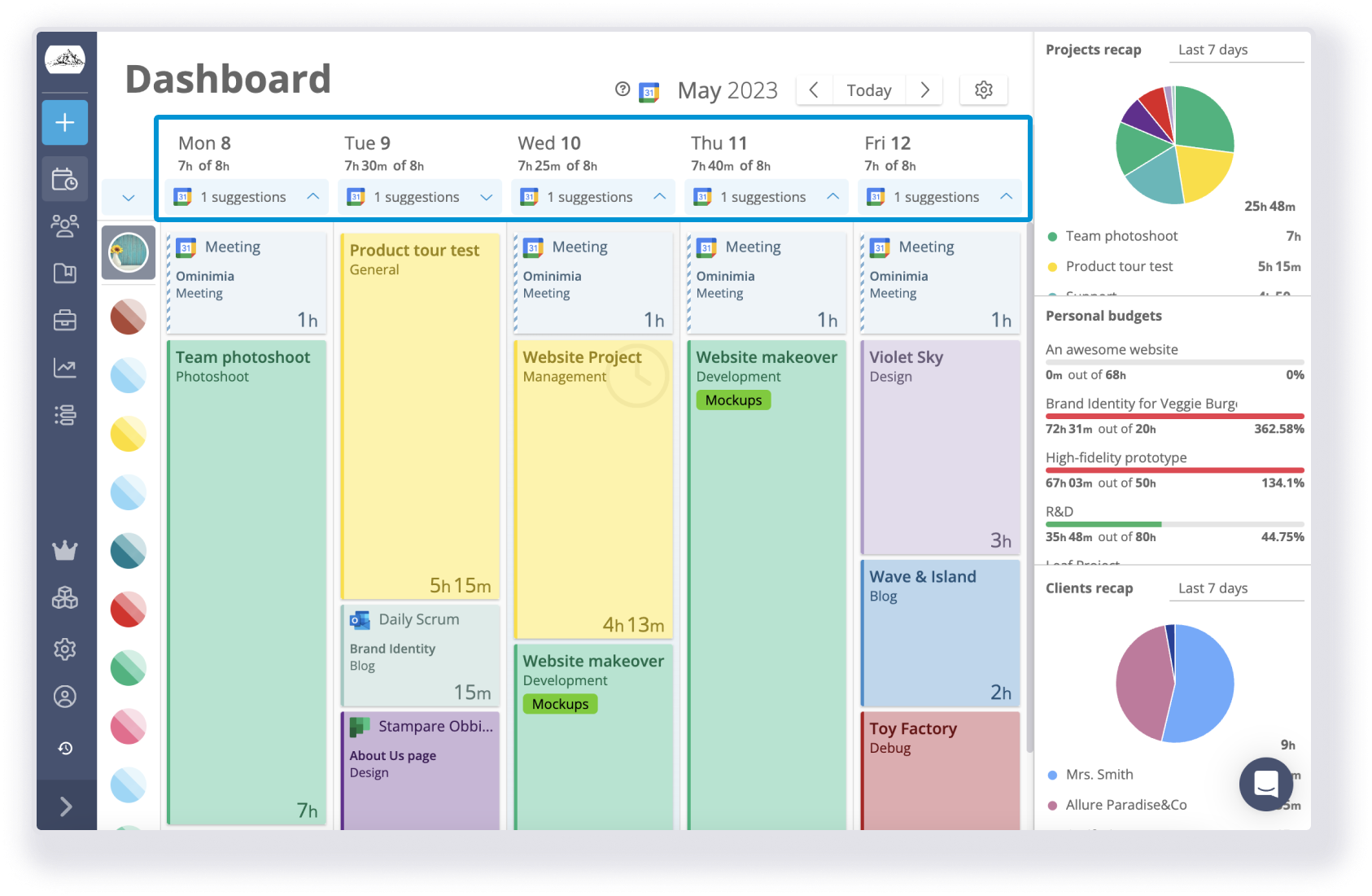 Google Calendar
Timeneye automatically imports your Google Calendar events as suggested time entries, leaving you the chance to add them to your latest activities.
You will never have to track time after a meeting again: just take a break, you deserve it!

Google Docs
Register time directly from the Google Docs you are working on. The Timeneye Browser Widget will add a little Timeneye icon in the document's menu bar.
Whether you are writing a project report, an essay, your latest blog post, or the next literary masterpiece, track your time and boost your productivity.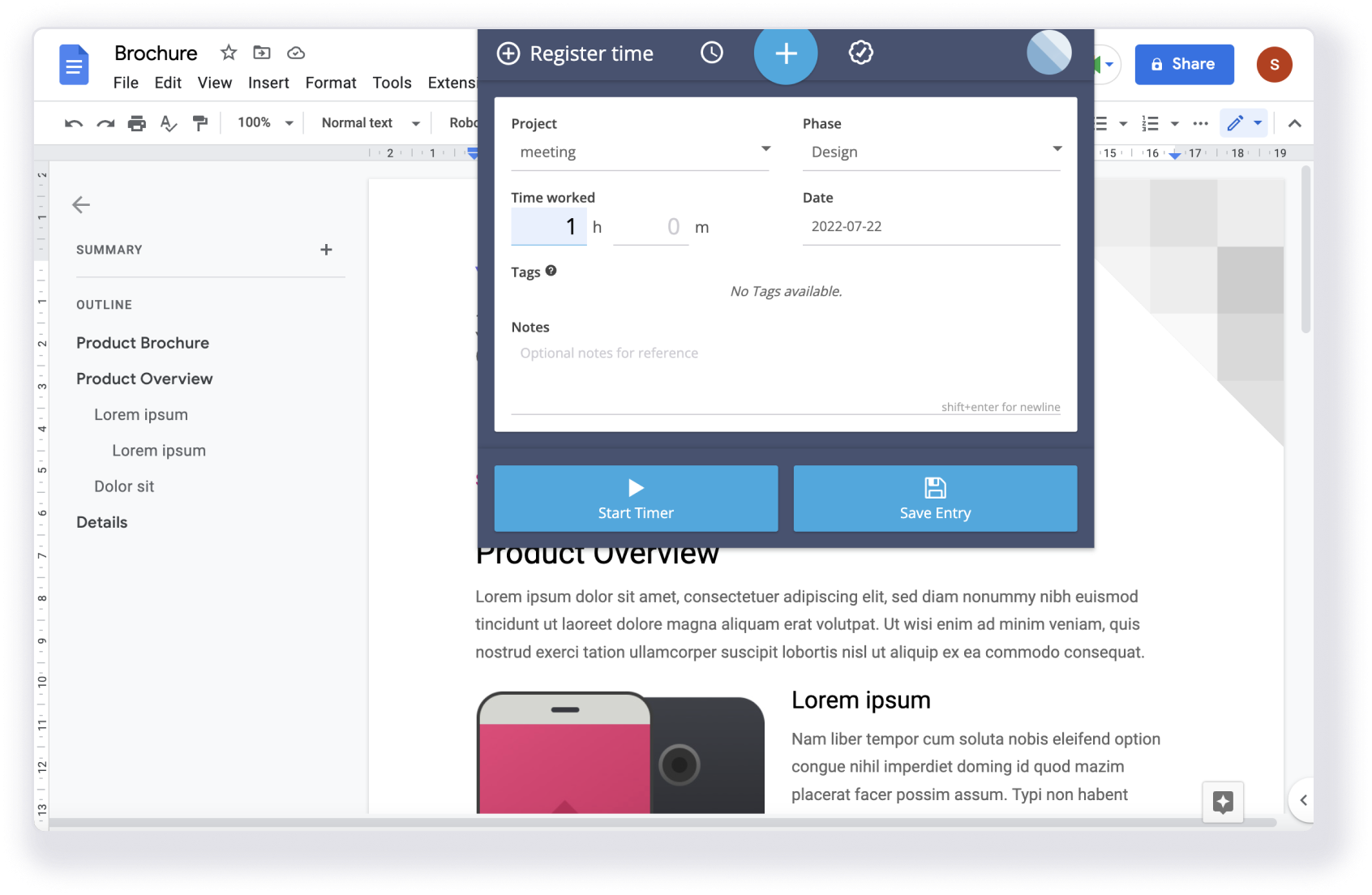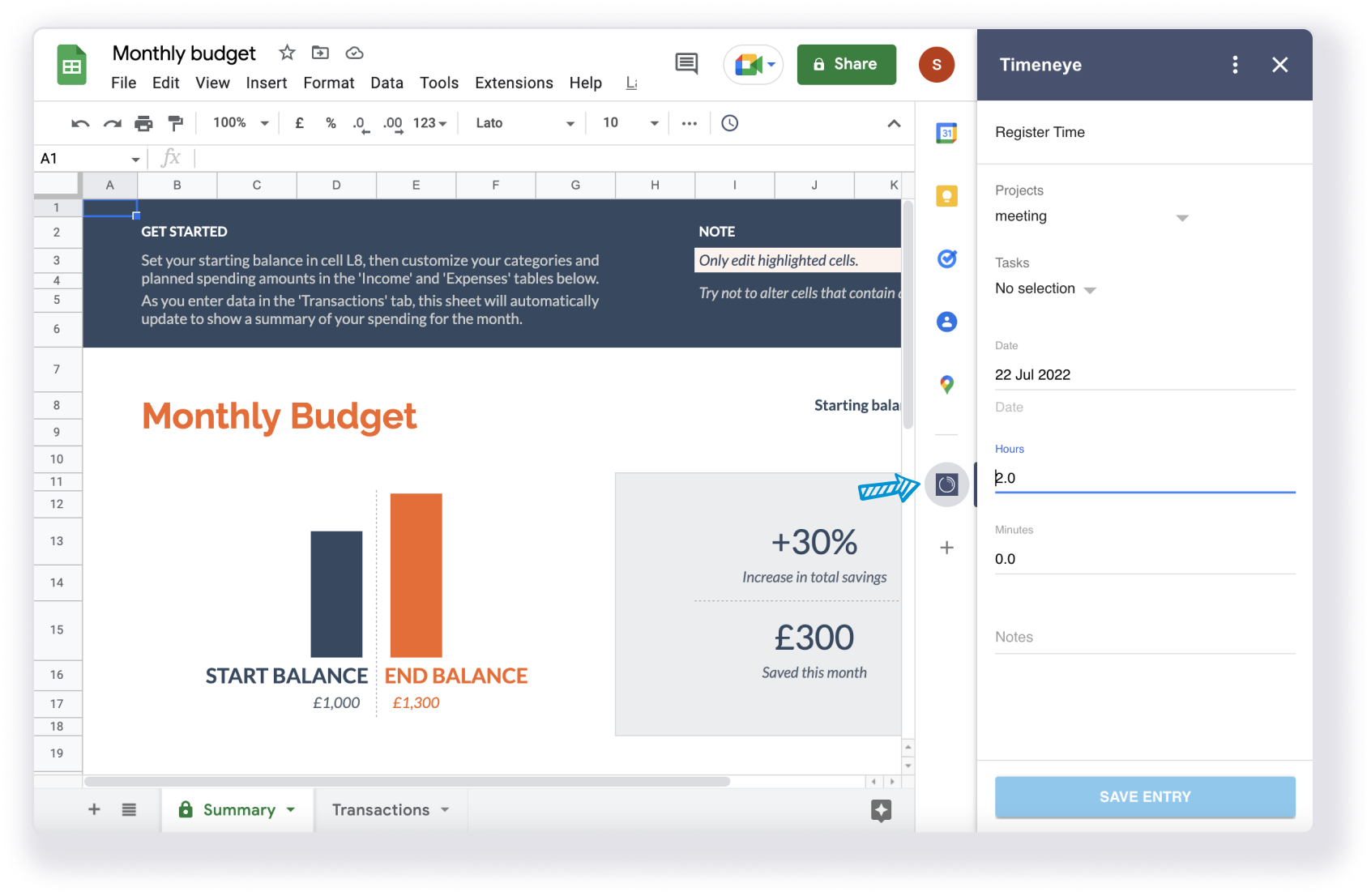 Google Sheets
Never miss a minute of your work: add time tracking to Google Sheets.
Thanks to the Timeneye Browser Widget, you will be able to register time while working on your online spreadsheets.

Gmail
The time you spend answering emails is actual work, and should be valued. Know exactly how much of your time goes into email – and prepare yourself for a few surprises!
The Timeneye Browser Widget lets you add a time-tracking button in your emails inside Gmail.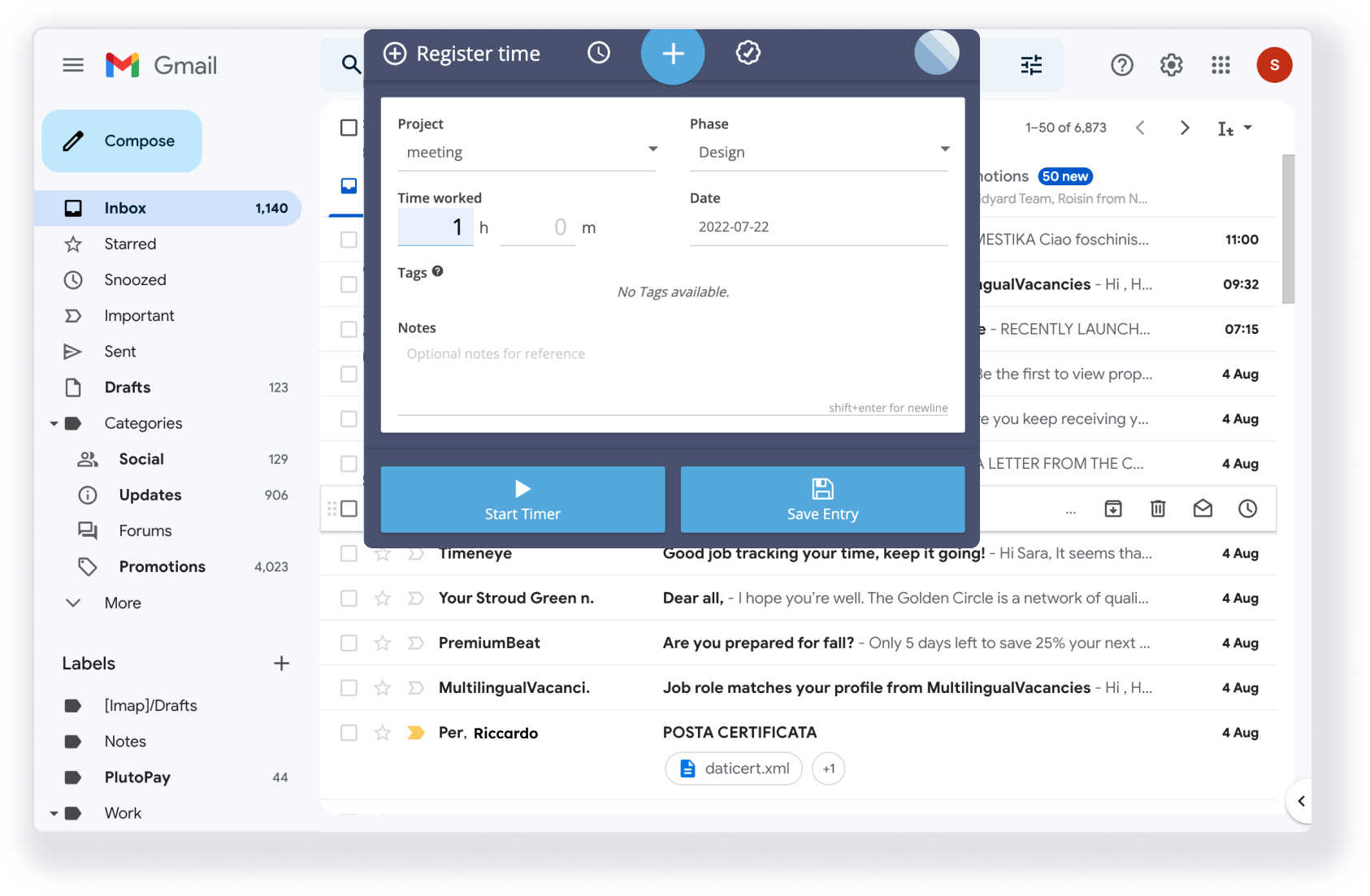 TRUSTED BY 800+ COMPANIES IN 50 COUNTRIES, SINCE 2013
What our customers say
"I spent a couple of months researching and testing different software solutions for simple time tracking with automatic calendar events capturing for our team in Europe, and Timeneye turned out to be the best solution we tested. It's simple; it is not filled with hundreds of useless settings and has exactly what you need very quickly.."

"My daily workflow relies on tracking time spent on tasks registered in third-party services (moved from Trello to Wunderlist, and to then Todoist when Wunderlist was killed by MS). Timeneye provides a very convenient integration with all of these services, and it allows clicking a single button to start/stop time for a particular task."
Your time is priceless, take better care of it
Start managing your time in Timeneye with a 30-day trial.