Simple, Intelligent

Time Tracking
Timeneye is the easy, stress-free time tracking software to stay on time and on track. Teams accomplish more when they know how to be effective!
Save time
Manage your projects
Increase productivity
Unlock your team's potential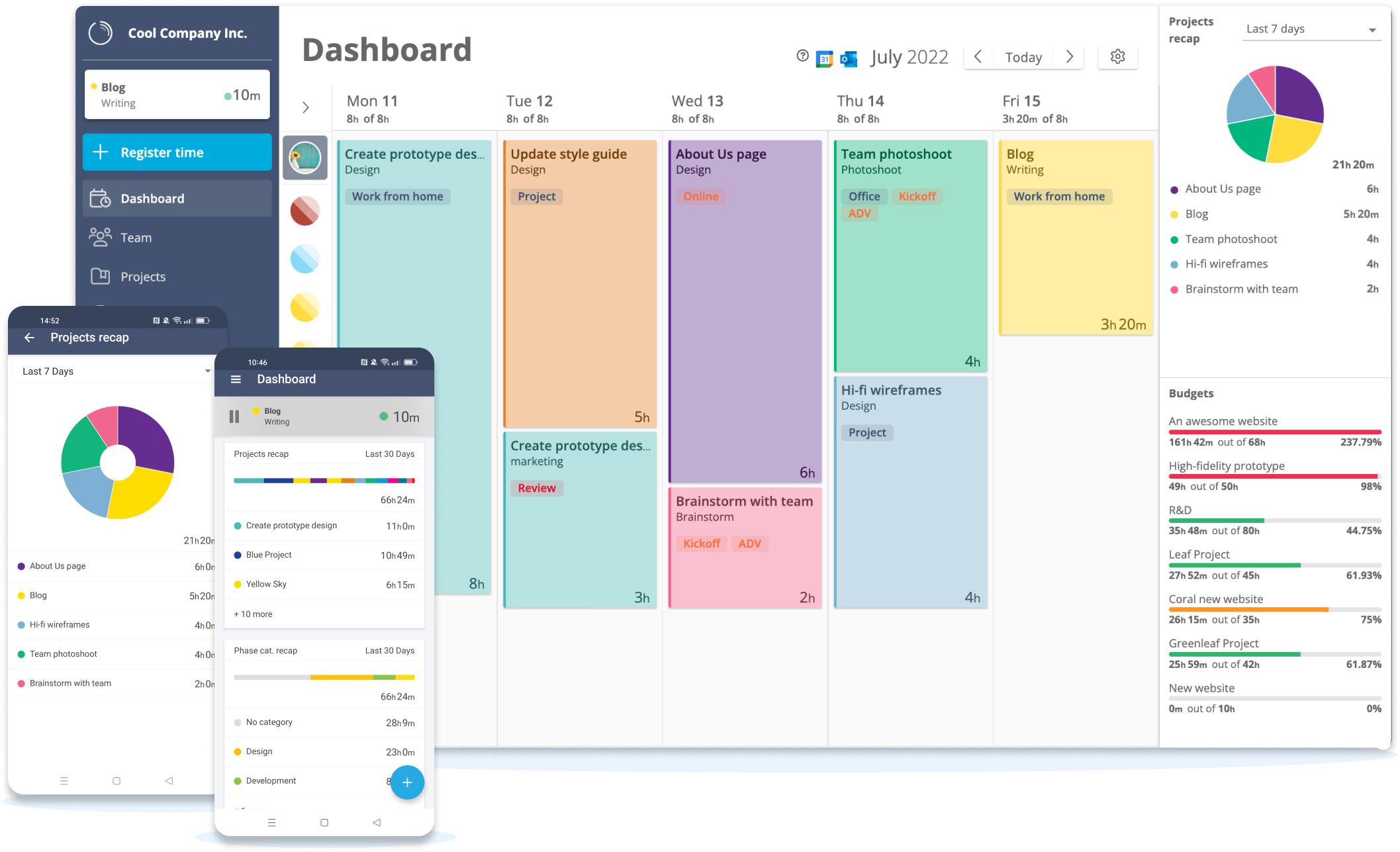 POWERFUL FEATURES
Why you will love Timeneye time tracking
Simple
---
All timesheets and data are safely saved on the cloud. Every working hour saved is immediately logged and available for reporting;

Beautiful, visual interface accessible from anywhere via web and mobile apps;

Perfect for in-office, fully remote, and hybrid teams alike.
Flexible
---
Fully integrated with a variety of software and services.

Fast mobile apps for Android and iOS, with offline time tracking available wherever you are;

Track time anywhere on the web with the Bowser extensions for Chrome, Firefox and Microsoft Edge.
Insightful
---
Timeneye provides a real-time overview of your projects, team's performance, and profitability margins;

Export the data and show it to your clients, for accurate invoicing and transparency;

Automate your reports to free time for the stuff that really matters.
Discover a better way to track time
TIME TRACKING
Effortless Time Tracking
We have made time tracking easy and fast so you won't have to worry about endless spreadsheets to fill.
Click on a simple button and track the time spent on different projects.
Every working hour tracked is immediately registered and saved in the system. See your time organized in a beautiful dashboard!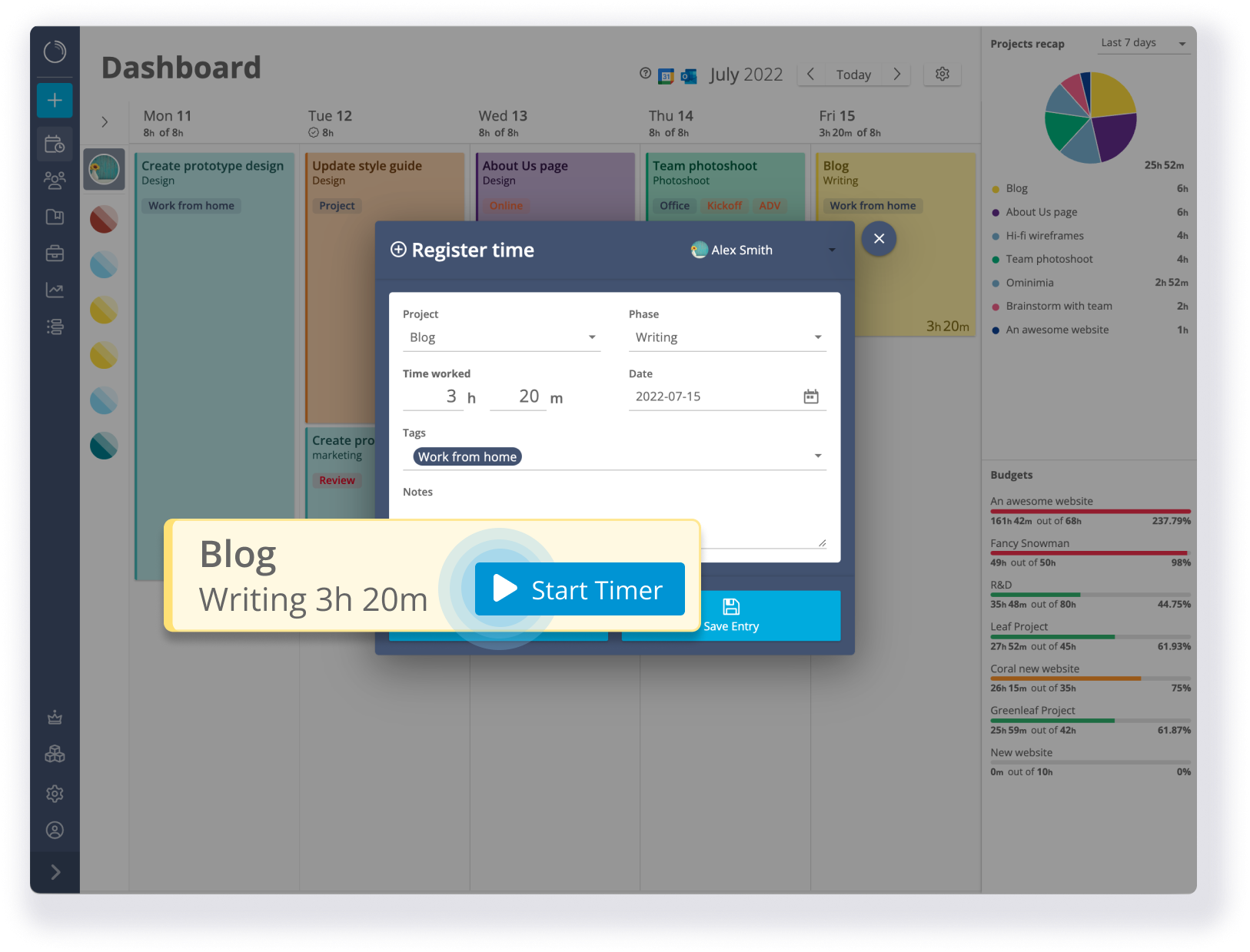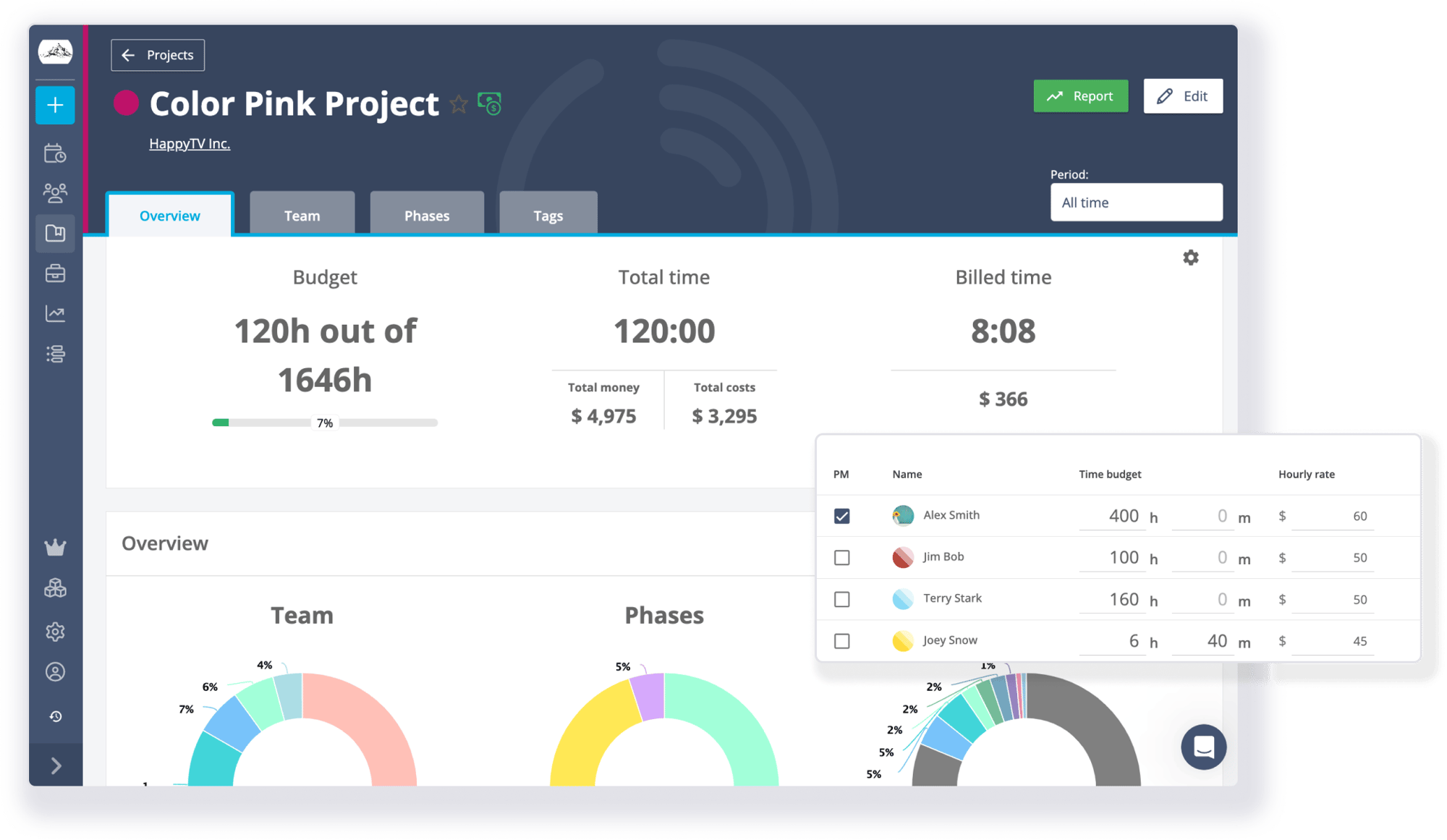 OVERVIEW
Monitor your projects
It is easier to deliver a project successfully by keeping track of its status.

Timeneye provides a real-time overview of the tasks' progress, the team performance, and the project profitability margins.
Close projects on time and within budget, and make your clients happy!
VISIBILITY
Reporting and Insights
Our time report will show you a breakdown of your activities and their costs so that you can allocate the resources more efficiently.
Start by choosing one of our report templates, then customize it to display the most relevant data.
Export the data and show it to your client, for accurate invoicing and transparency.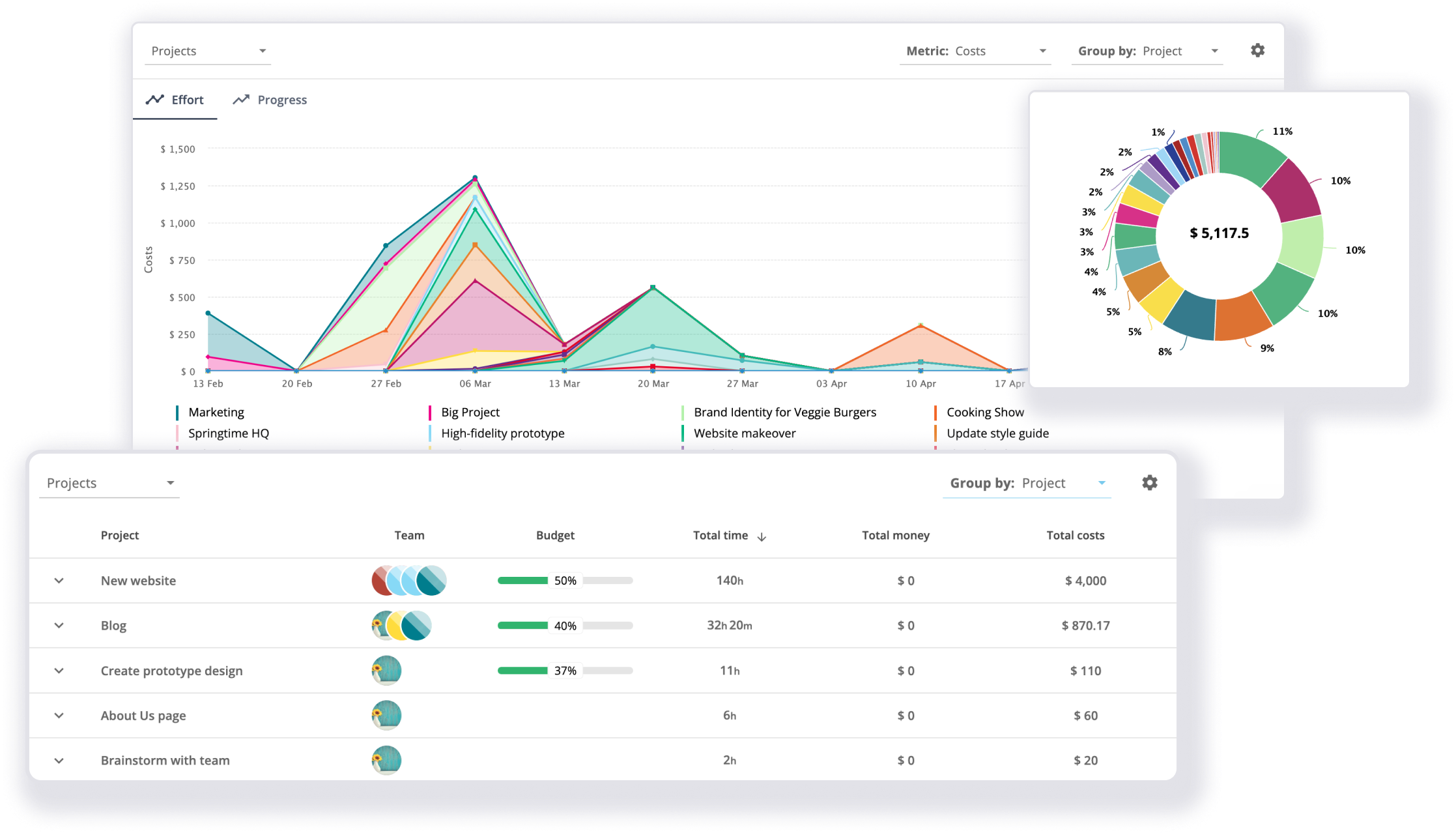 Timeneye can be customized for any team size or industry
ALL PLATFORMS
It works wherever you work
100% online & No installation required
Teams scattered all around the world can track time and keep productive with Timeneye. Managers can see the bigger picture whenever they need to.
iOS | Chrome Extension | Android | Firefox Extension | Edge extension
All the data is saved and accessible on the Cloud so everybody can track time regardless his/her location.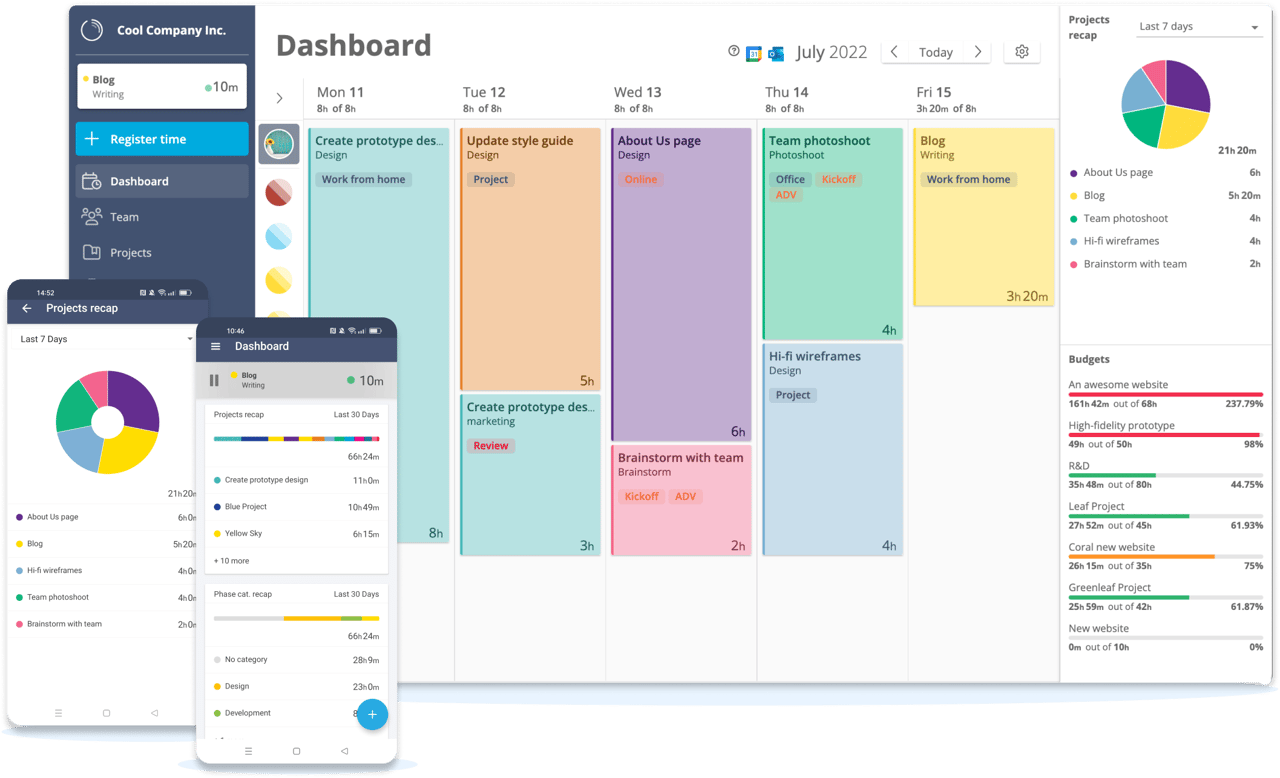 CUSTOMIZABLE REPORTS
Turn time into insights
Save time by starting your report with a template that meets your needs.
Then, you can build your report using our customizable widgets to display the most relevant data.
You can choose between three types of layouts: table, pie chart, and area chart.
LEARN MORE
INTEGRATIONS
Seamlessly integrated with your favorite tools
Timeneye connects with your favorite tools thanks to its native integrations and the Timeneye Browser extensions.
LEARN MORE
TRUSTED BY 800+ COMPANIES IN 50 COUNTRIES, SINCE 2013
What our customers say
"I spent a couple of months researching and testing different software solutions for simple time tracking with automatic calendar events capturing for our team in Europe, and Timeneye turned out to be the best solution we tested. It's simple; it is not filled with hundreds of useless settings and has exactly what you need very quickly.."

"My daily workflow relies on tracking time spent on tasks registered in third-party services (moved from Trello to Wunderlist, and to then Todoist when Wunderlist was killed by MS). Timeneye provides a very convenient integration with all of these services, and it allows clicking a single button to start/stop time for a particular task."
Your time is priceless, take better care of it
Start managing your time in Timeneye with a 30-day trial.