MOBILE APP
Track time on your mobile phone, wherever you are
Tracking time out of the office has never been so easy.
Start timers and easily manage your existing time entries in just one tap with the Timeneye mobile app for Android and iOS devices.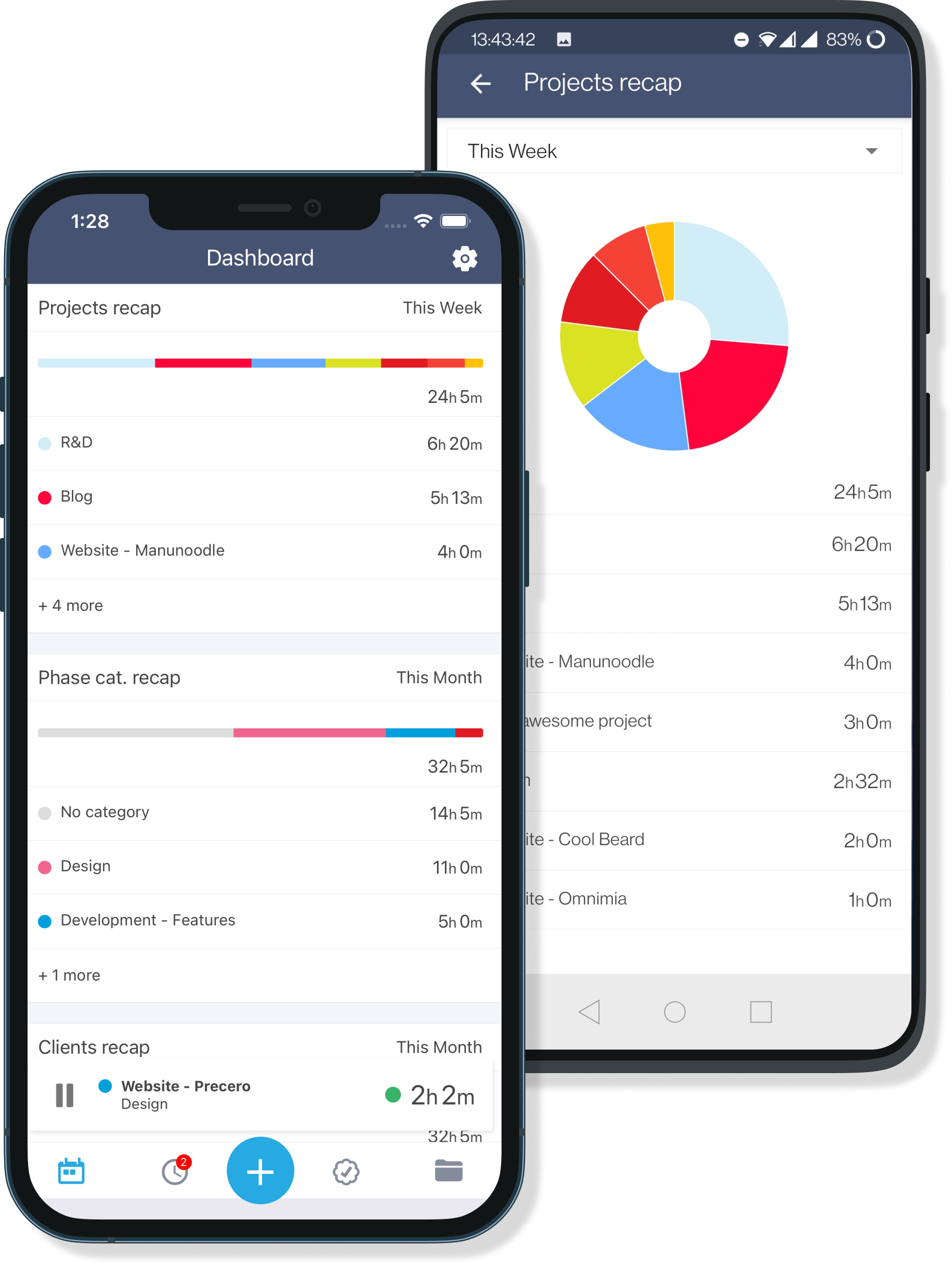 Time-saving features and real-time data
Timeneye for iOS and Android delivers the features you love to your phone, allowing you to make the most of every moment.
Easy Time Tracking
Start and stop with one click! Forgot to start the timer? Add and edit all of your time manually and make sure that every second of your time is accounted for.
Offline Mode Available
Make it easier for your team to track time when they are working on the field, in meetings, or switching between multiple projects.
Calendar Integration
Add your Outlook Calendar or Google Calendar to your Timeneye workspace, and you can automatically import your work activities as suggested entries.
Syncs with the Web App
All the time you track with our integration is safely stored inside Timeneye. Every time you make a change, Timeneye will sync this update automatically.
Weekly email recaps
Would you like a regular report on the projects, easily delivered to your email? Our weekly email recap provides a snapshot of the work progression in the team.
Projects Tracking
Timeneye provides a real-time overview of the tasks' progress, the team performance, the project profitability margins and the billing status.
Timeneye is not just on your phone
Timeneye is a simple timesheet tool that helps you to keep track of where your time goes. Our Mobile, Browser Widget, and Desktop applications sync in real-time, so you never miss a beat—regardless of where you begin tracking.
TRUSTED BY 800+ COMPANIES IN 50 COUNTRIES, SINCE 2013
What our customers say
"I spent a couple of months researching and testing different software solutions for simple time tracking with automatic calendar events capturing for our team in Europe, and Timeneye turned out to be the best solution we tested. It's simple; it is not filled with hundreds of useless settings and has exactly what you need very quickly.."

"My daily workflow relies on tracking time spent on tasks registered in third-party services (moved from Trello to Wunderlist, and to then Todoist when Wunderlist was killed by MS). Timeneye provides a very convenient integration with all of these services, and it allows clicking a single button to start/stop time for a particular task."
Your time is priceless, take better care of it
Start managing your time in Timeneye with a 30-day trial.