TIMENEYE FOR ENTERPRISE
The right time-tracker for your company
Timeneye is the simplest, yet most complete
time tracking solution for teams from 10 to 10,000+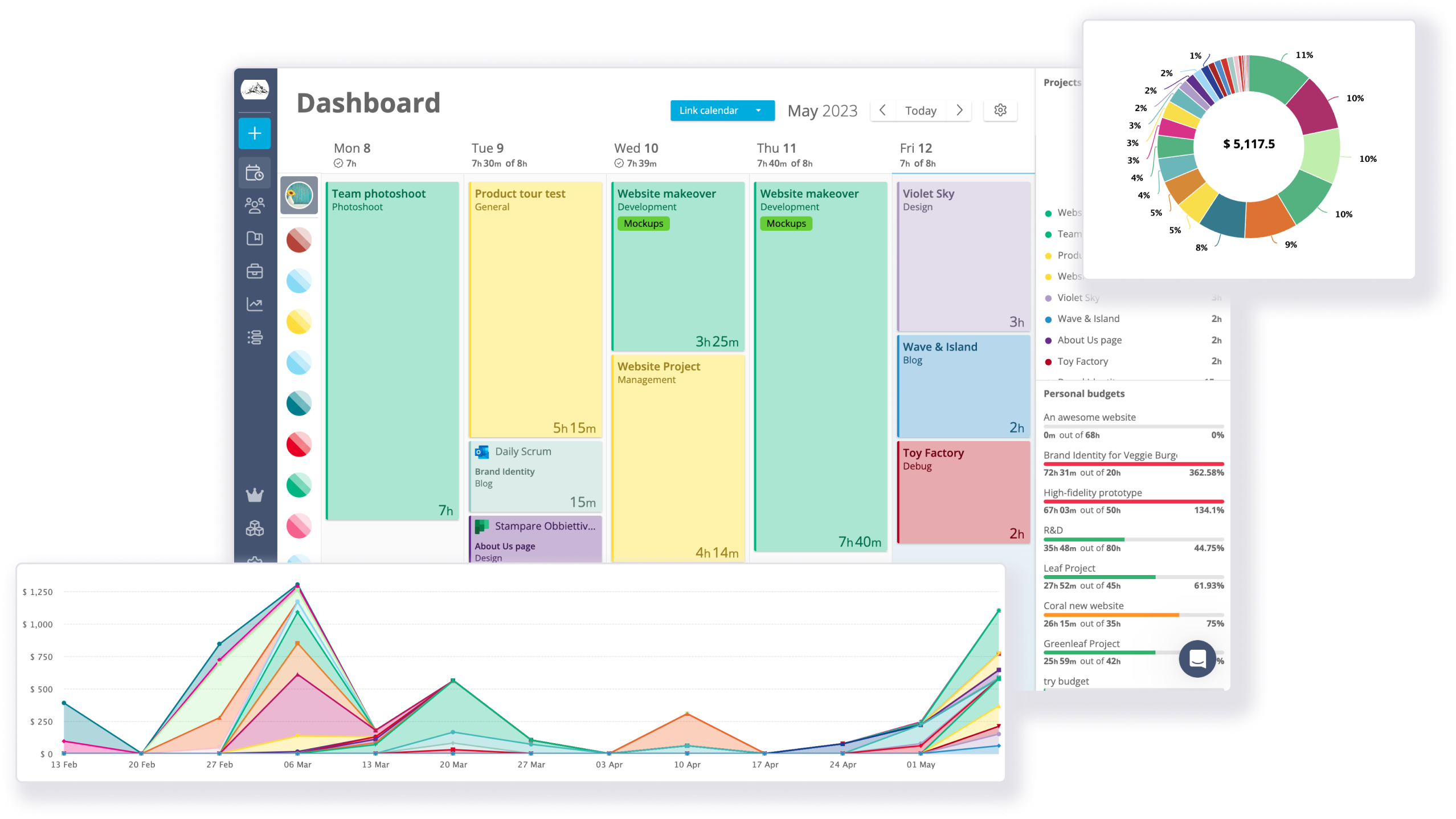 BENEFITS FOR TEAMWORK
Why teams prefer Timeneye
Meaningful insights
Analyze where your time has been allocated with a breakdown of your activities and identify areas that need improvement
Streamline process
Consolidate recurring project paths and set up your ideal workspace to work like a well-oiled machine
Empower your team
Get real-time data about how many hours your team members are allocating to projects and keep them aligned on shared goals.
VISIBILITY & GOALS
Track your projects and hit key results
See progress in real time
The simple, calendar-style dashboard allows you to monitor your team's daily work.

We know that time tracking is a personal matter: you can customize the real-time dashboard to visualize key performance indicators and see where your working hours really go.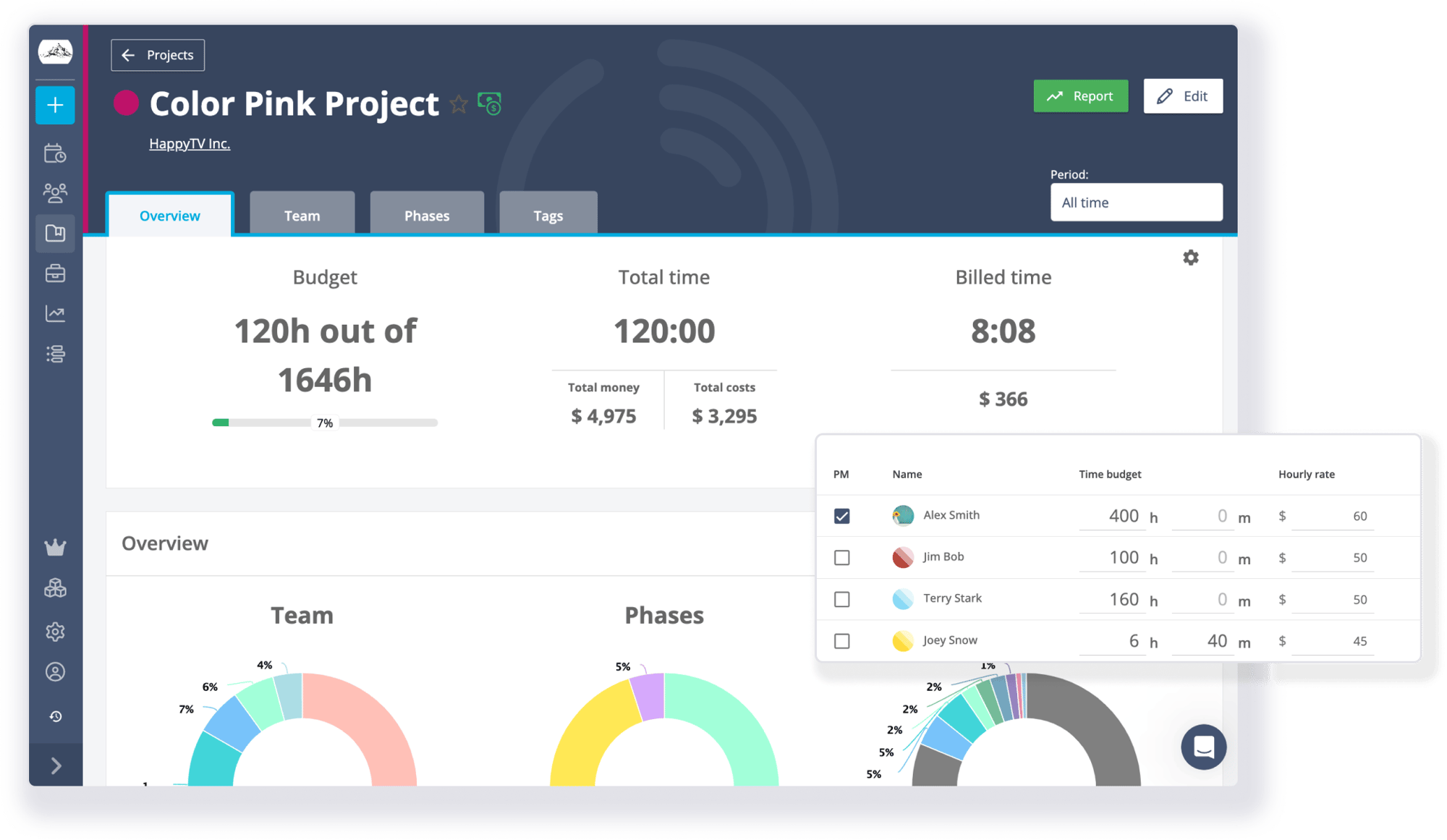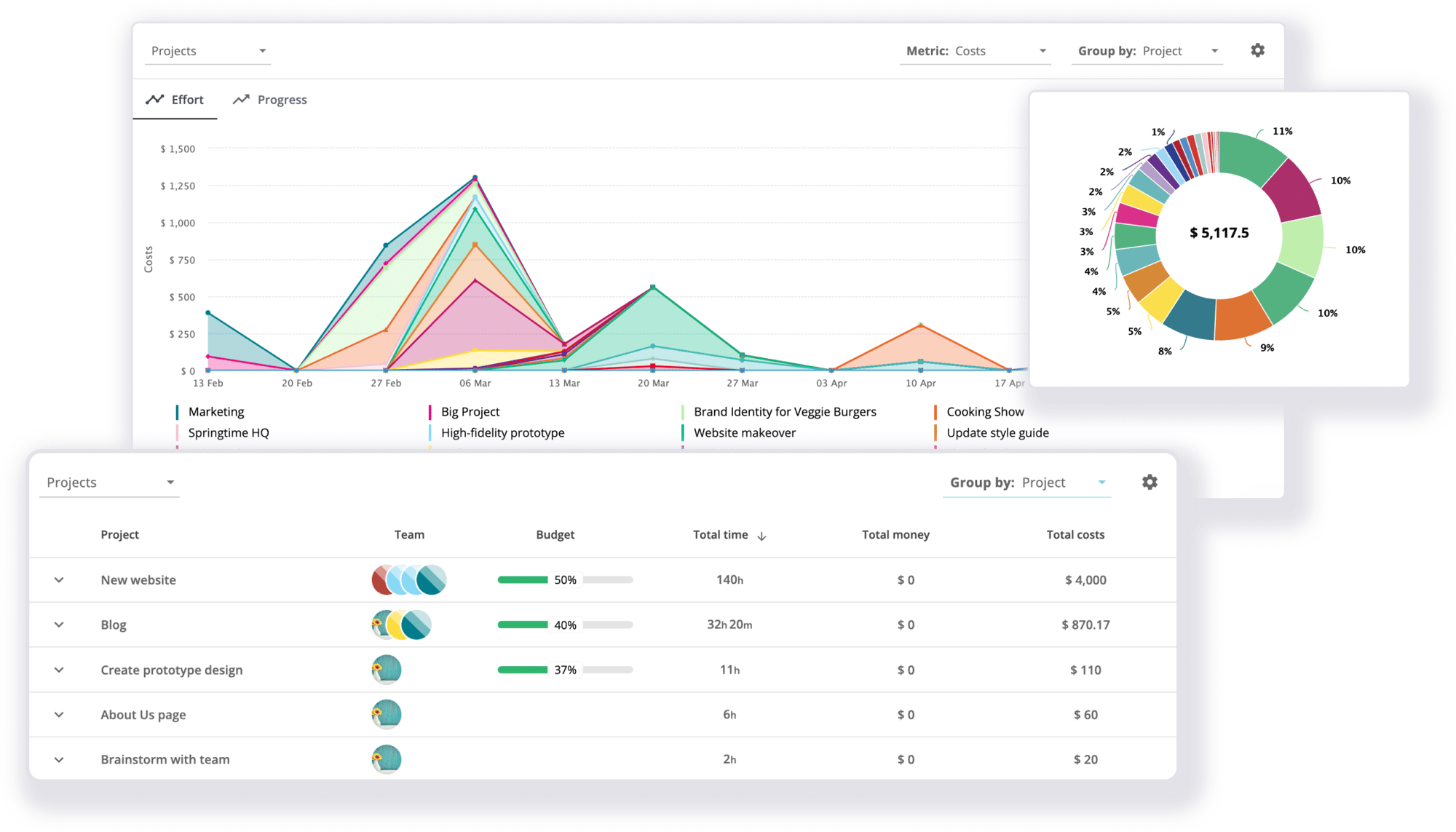 Gather actionable insights
Choose one of our report templates, pick your filters, and export your data for analysis and transparency.

Every minute you track in Timeneye is aggregated in easy-to-read tables and pie charts, showing you what is taking most of your time.
Billable vs Non-billable time
Your time is valuable and it deserves what it is due: keep track of billable and non-billable hours.

Invoice accurately and get paid for every minute of your work, by objectively tracking all the time you spent on clients and projects.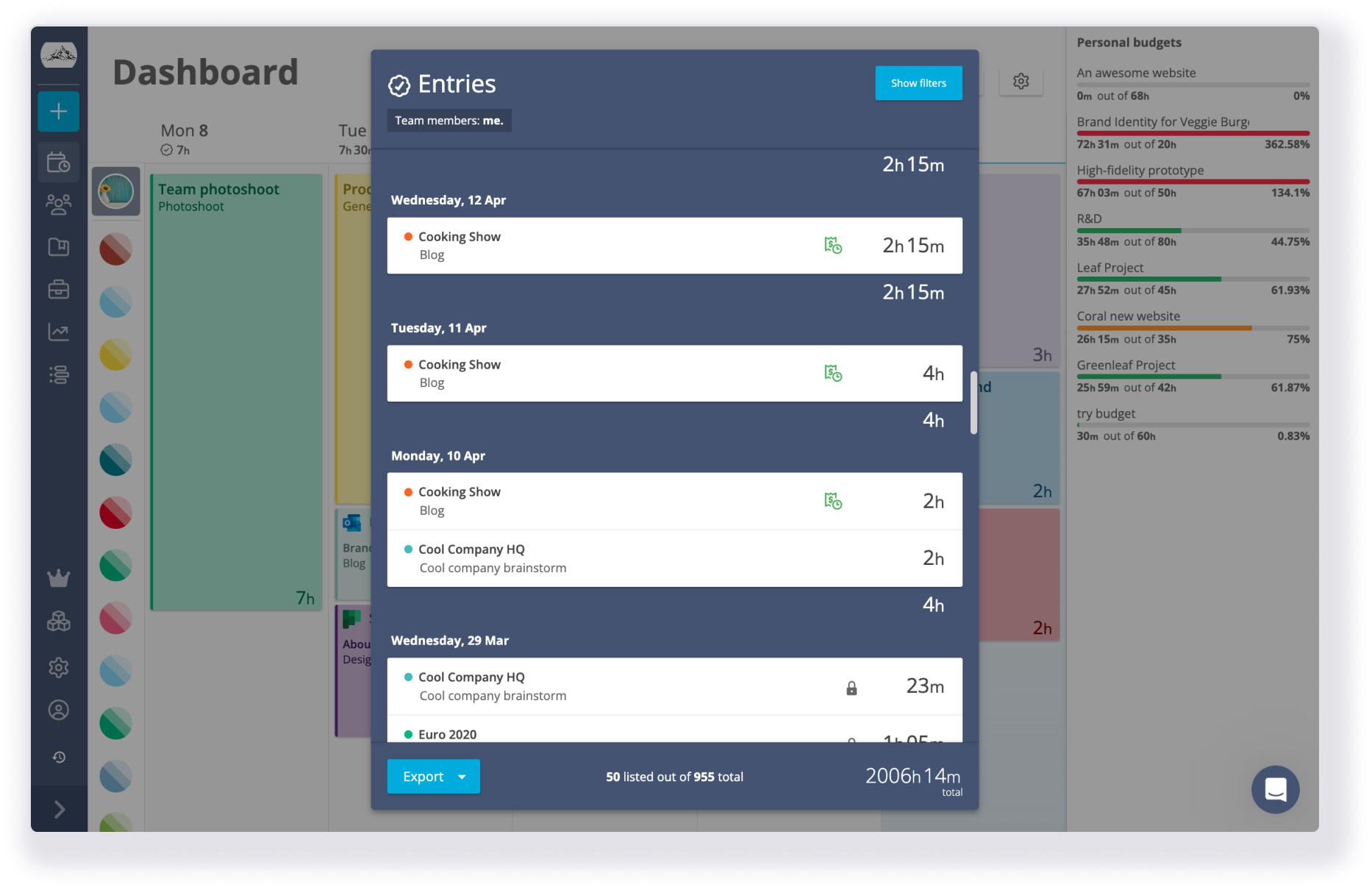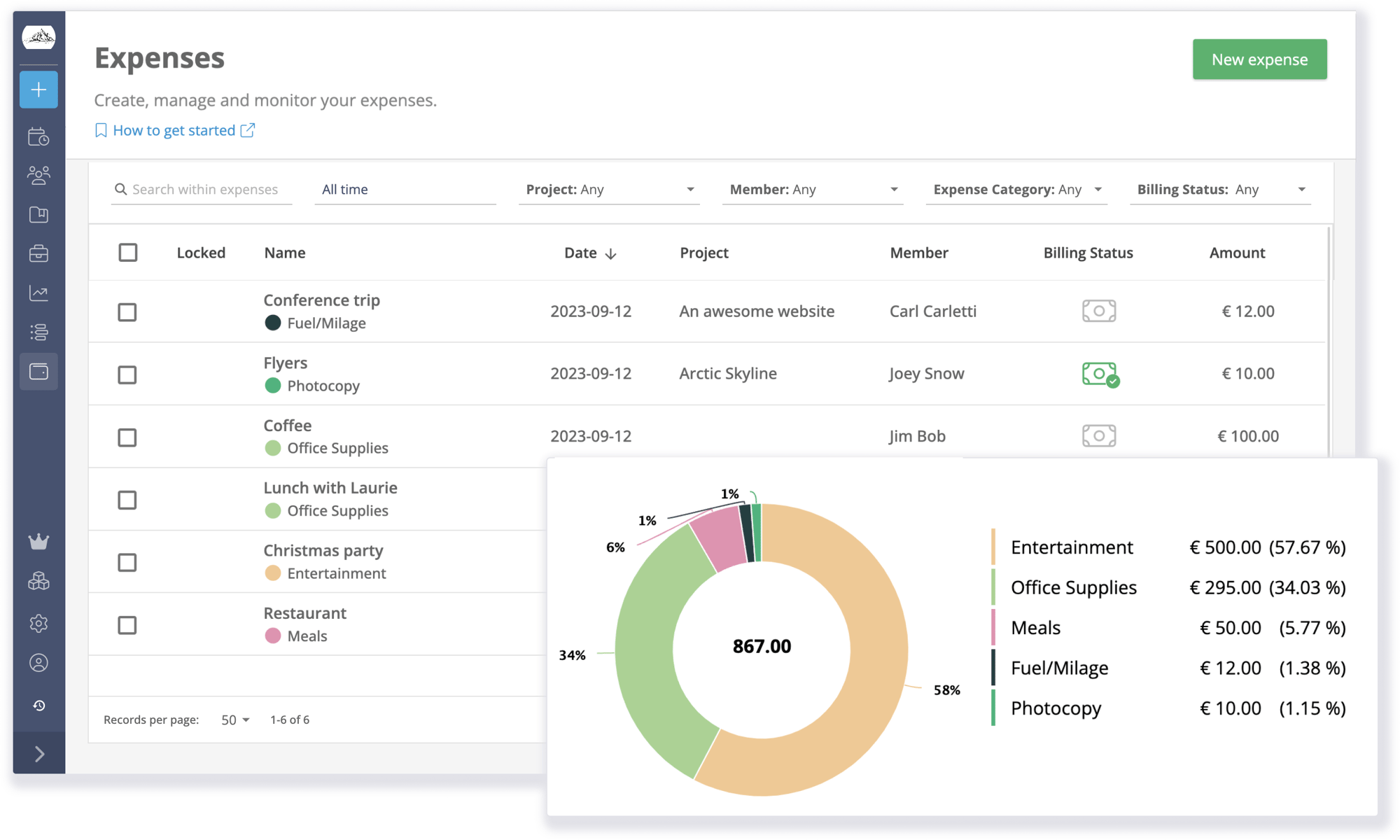 BUSINESS EXPENSES
Track your expenses
Our user-friendly platform enables you to effortlessly track and categorize all your work-related expenses, ranging from travel and accommodation to meals and supplies.
With Timeneye, you have the ability to maintain a comprehensive expense log, incorporate it into your invoice, or provide reimbursement to your employees.
Get hands-on support for every step of your implementation
Our experts will be on your side from day one, through workspace build-out, data migration, team management, and more.
SIMPLICITY
The whole company on board, in just a few clicks
Easy to use
We made Timeneye as easy and intuitive as possible to cut training time for managers, and and help the employees speeding up the learning curve.
Once you have started, the whole team will be up and running in just a few minutes!

Plus, you can count on plenty of online resources and personal support.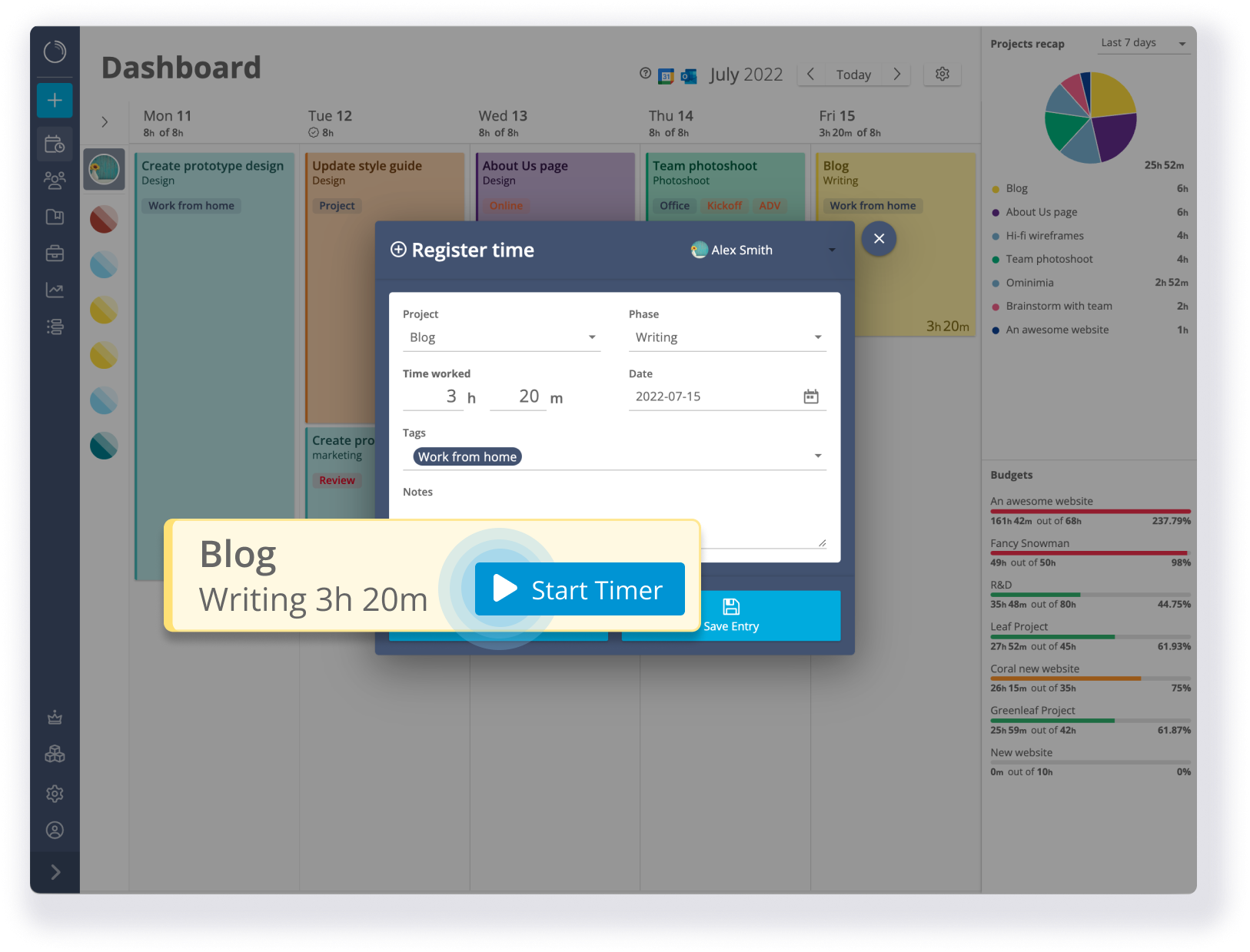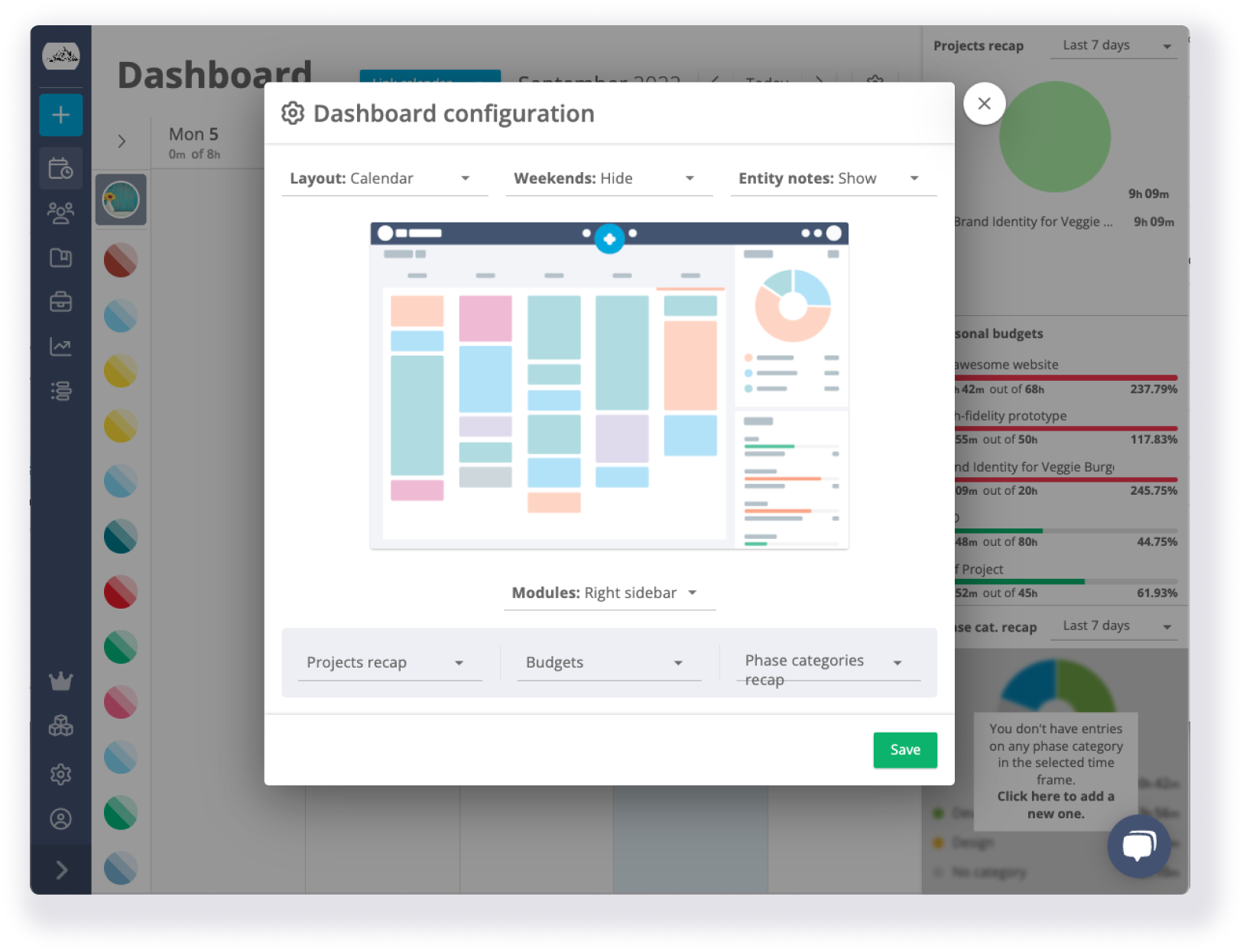 Easy to customize
Timeneye workspace can be customized for any use case - from marketing and sales to engineering.

We offer ready-made templates to get you up and running, but you can constantly personalize your workspace, making it tailor-made and reflecting your company's needs.
Easy to deploy
We know how challenging it could be to adopt new software and make it part of your working routine.
That's why we made Timeneye as easy and intuitive as possible to cut training time for managers and learning curves for employees. The whole team will be up and running in just a few seconds!
You can start with 20 or 20.000 people: invite them all at once from your Microsoft or Google account just by clicking on a button.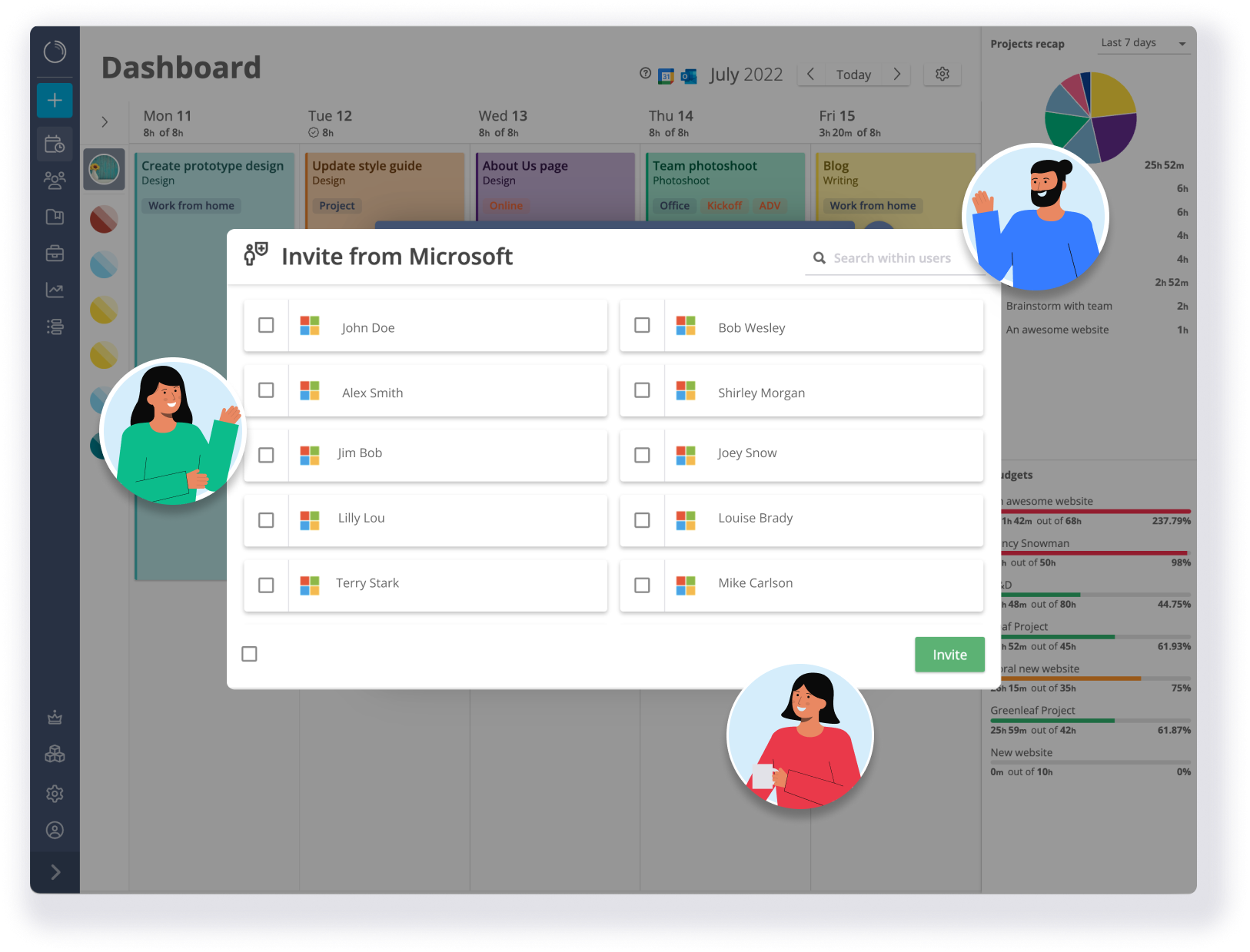 Would you like to see Timeneye in action?
To disclose Timeneye's full value, we advise you to explore all its features with your team. Tracking time will become second nature sooner than you expect!
Most Popular
30-day FREE Trial
Recommended for any business size.
Test Timenye with your team and see if it's the right tool for you. You will have access to all the features and technical support for one month.
---
Full access to all features

Unlimited users, projects and clients

Access to online resources and IT support

Time limit: 30 days
Pilot
Recommended for Enterprises
Take the time to test Timenye with your team and see if it's the right tool for your organization.
---
Full access to all features

Unlimited users, projects and clients

Access to online resources and IT support

Time limit: 1 to 6 months, depending on the company size
SECURITY
Work confidently with enterprise-grade security
Data security

SSO

Our Privacy Policy

We're here to help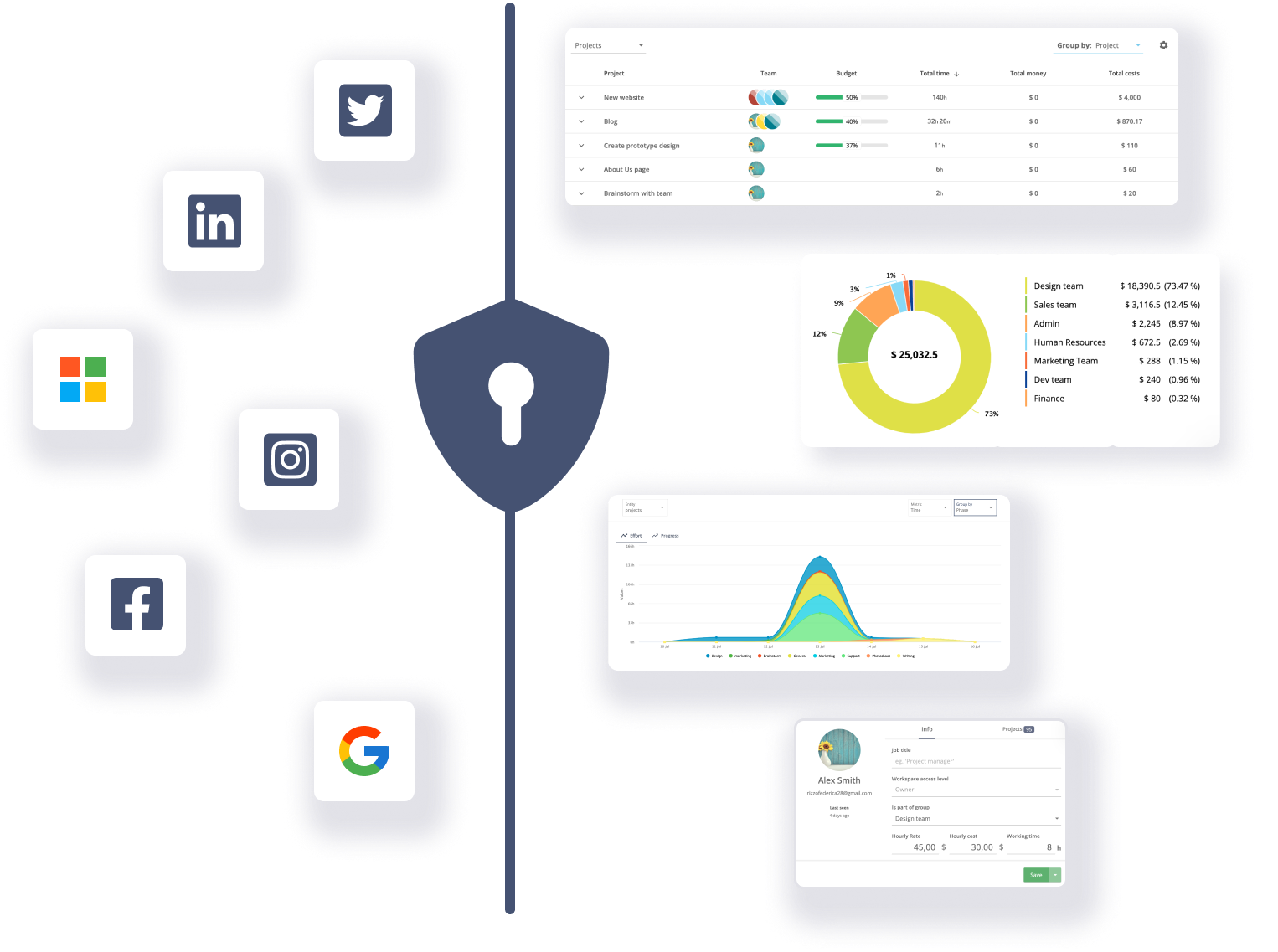 Data security first
Provide an easy way to access Timeneye securely and instantly with Google & Microsoft authentication.

SSO authentication is available for stronger security when accessing the platform.

Timeneye is reliable and fully GDPR compliant.
Secure login with Sigle Sign-On (SSO)
With Google and Microsoft authentication, make it simple to gain safe and rapid access to Timeneye. Admins may configure SSO settings, automate invitations, and track team SSO activity.
Our Privacy Policy
Timeneye doesn't support screenshots, keystroke counts, GPS tracking, and other invasive monitoring tools.
Instead, we provide transparency and accountability.
We believe time tracking should be a personal responsibility. So we just don't see ourselves developing hard monitoring features like random screenshots, keystroke counts, or any similar tools.
Ask us about our policies and security
Our team is more than happy to provide you with documentation and answer all your questions about security and data management
CONTROL SETTINGS
Manage roles & permissions
Roles & Permissions

Hourly Rate & Cost

Groups Management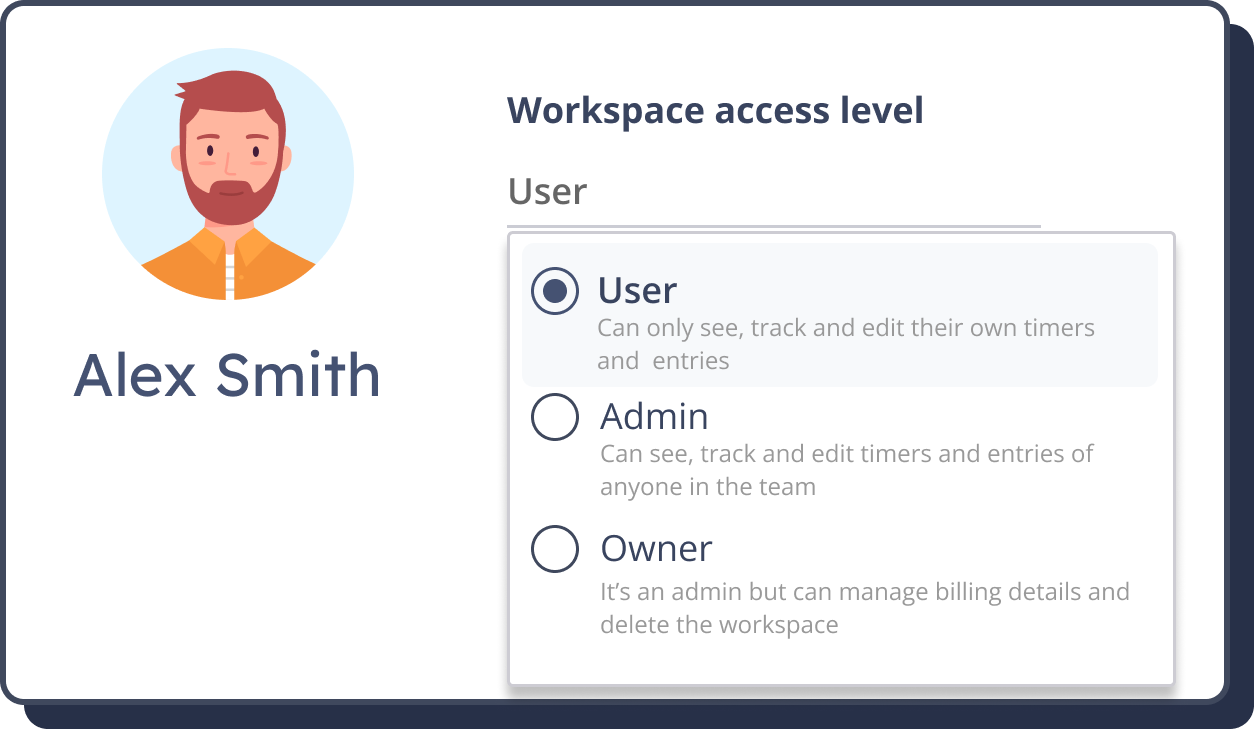 Roles & Permissions
To check the access to features and keep an eye on data, you can set up different levels of permissions and roles for your team members.
This way, you will be able to replicate your company hierarchy structure in the whole Timeneye workspace.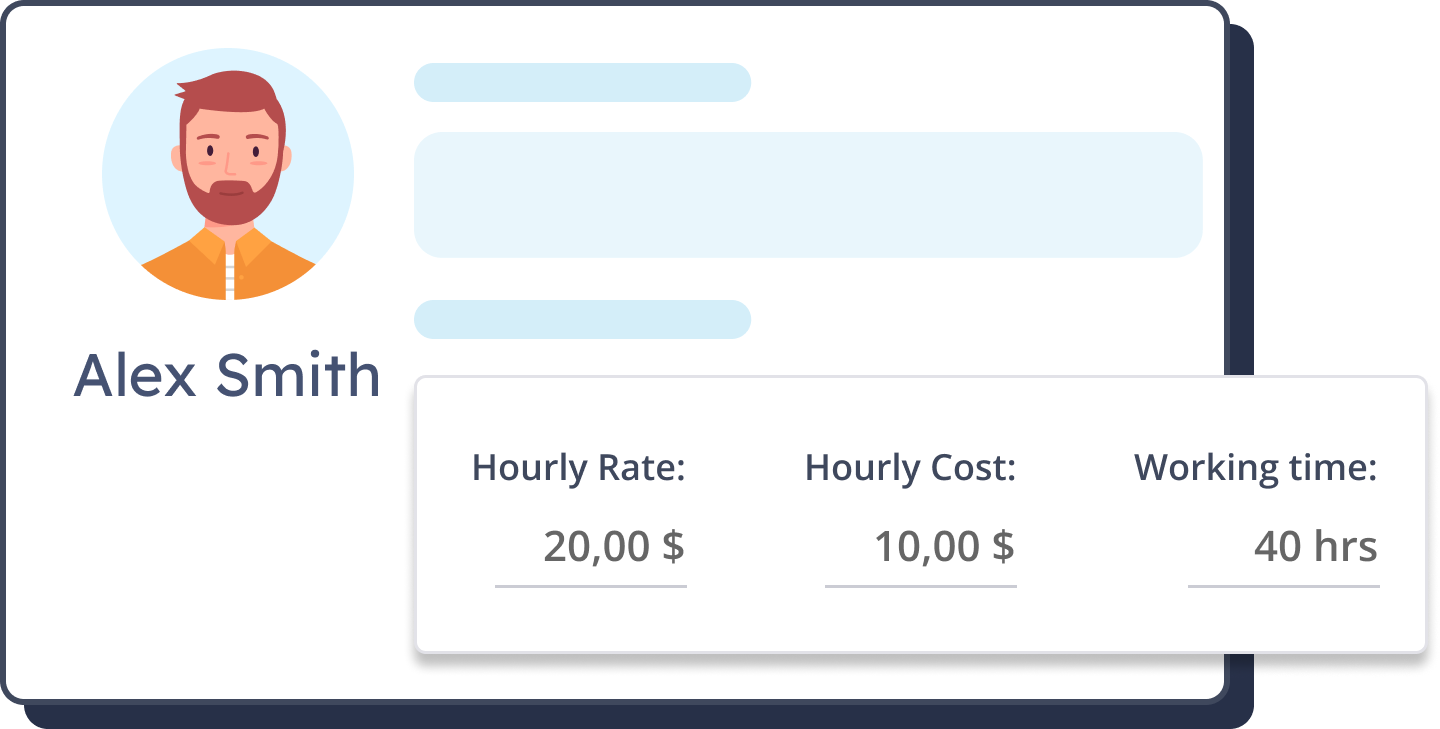 Hourly Rate & Cost
Assign time budgets to each user to quickly provide the maximum expected effort for each employee on a given project.
Once you have access to this kind of data, wouldn't be easier to give an accurate quote on your next project?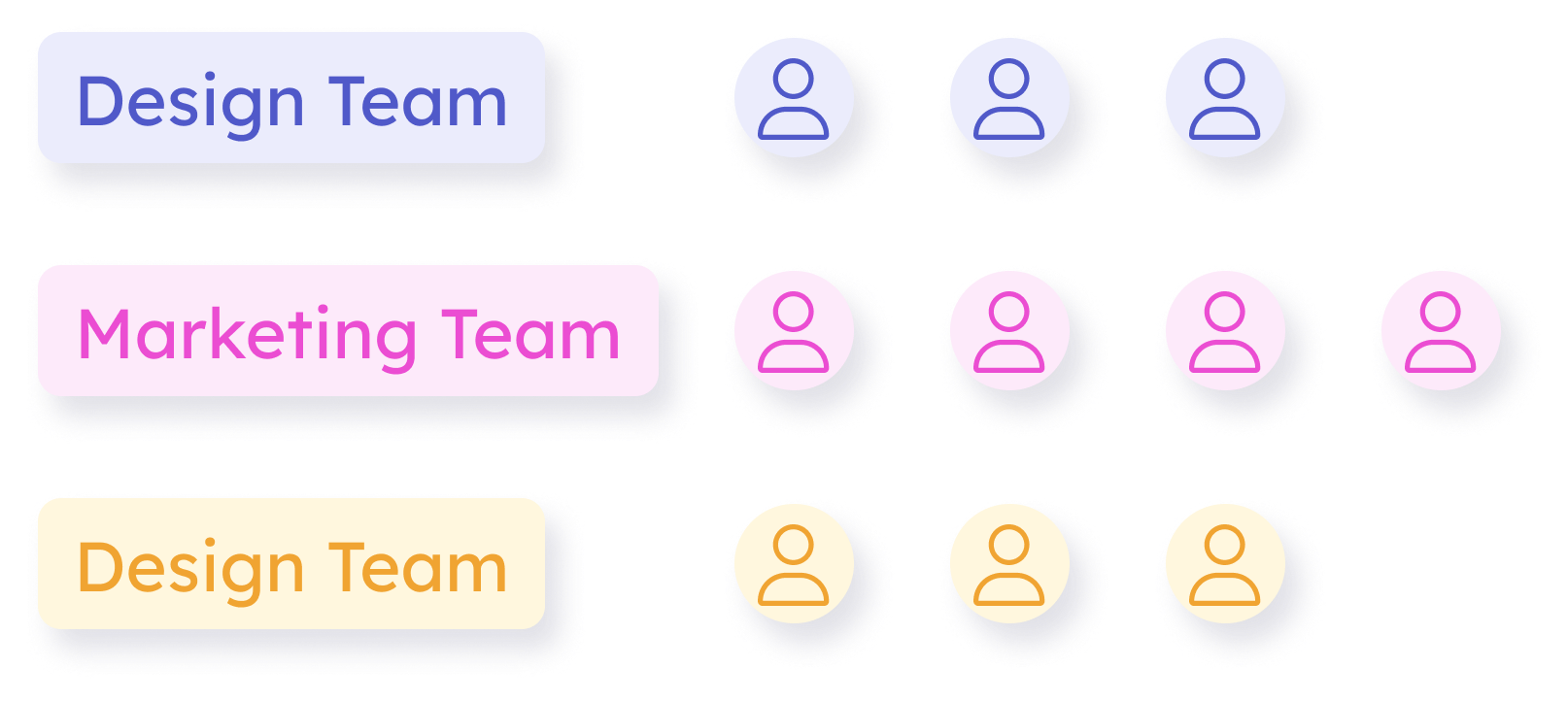 Groups Management
In Timeneye, you can organize your team by setting up Groups to mimic your company architecture.
Thanks to our custom-made reports, you can have an overview of your team activity and the breakdown of each department and individual user.
Timeneye can be customized for any team size or industry
ALL PLATFORMS
It works wherever you work
100% online & No installation required
Teams scattered all around the world can track time and keep productive with Timeneye. Managers can see the bigger picture whenever they need to.
iOS | Chrome Extension | Android | Firefox Extension | Edge extension
All the data is saved and accessible on the Cloud so everybody can track time regardless his/her location.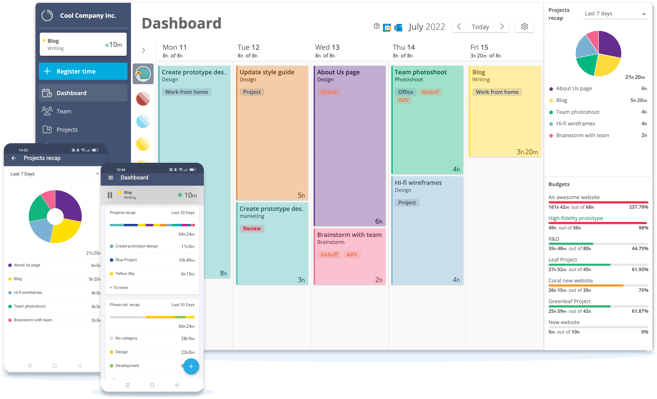 CUSTOMIZABLE REPORTS
Turn time into insights
Save time by starting your report with a template that meets your needs.
Then, you can build your report using our customizable widgets to display the most relevant data.
You can choose between three types of layouts: table, pie chart, and area chart.
LEARN MORE
INTEGRATIONS
Seamlessly integrated with your favorite tools
Timeneye connects with your favorite tools thanks to its native integrations and the Timeneye Browser extensions.
SEE ALL INTEGRATIONS
TRUSTED BY 800+ COMPANIES IN 50 COUNTRIES, SINCE 2013
What our customers say
"I spent a couple of months researching and testing different software solutions for simple time tracking with automatic calendar events capturing for our team in Europe, and Timeneye turned out to be the best solution we tested. It's simple; it is not filled with hundreds of useless settings and has exactly what you need very quickly.."

"My daily workflow relies on tracking time spent on tasks registered in third-party services (moved from Trello to Wunderlist, and to then Todoist when Wunderlist was killed by MS). Timeneye provides a very convenient integration with all of these services, and it allows clicking a single button to start/stop time for a particular task."
Your time is priceless, take better care of it
Start managing your time in Timeneye with a 30-day trial.